Vision Engineering
Click here to browse suppliers website: https://www.visioneng.us/ 
Vision Engineering was founded in 1958 by Rob Freeman, a toolmaker who had previously worked as a race mechanic with the Jaguar Racing Team. Whilst at Jaguar, Rob developed a borescope for inspecting internal race engine parts without the need for disassembly.
Subsequently he formed Vision Engineering Ltd as a means of developing his interest in optics applied to manufacturing technology.
The company started off as a specialist optical sub-contractor to large British companies including Rolls Royce, Vickers, Ferranti and GEC.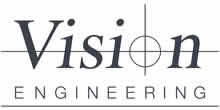 These products and more coming soon to arbell.com
Please email us for pricing and availability
customerservice@arbell.com
or call 1-888-751-5753