Lista International
Click here to browse suppliers website: https://www.listaintl.com/ 
LISTA, a brand of Stanley Black & Decker Storage Solutions group, provides high-density storage solutions that help workforces work efficiently and safely. We partner with businesses to design customized storage and workspace systems that maximize productivity while saving space.
Arbell is an Authorized dealer of Lista/Arlink products, all orders for Lista/Arlink must be placed by email and cannot be done through the website.
Lista catalogs, paint and trim color guides and assembly instructions can be found in the information center under the workbenches and chairs section.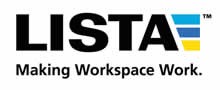 These products and more coming soon to arbell.com
Please email us for pricing and availability
customerservice@arbell.com
or call 1-888-751-5753